Biography of Yoé Miyazaki, violin.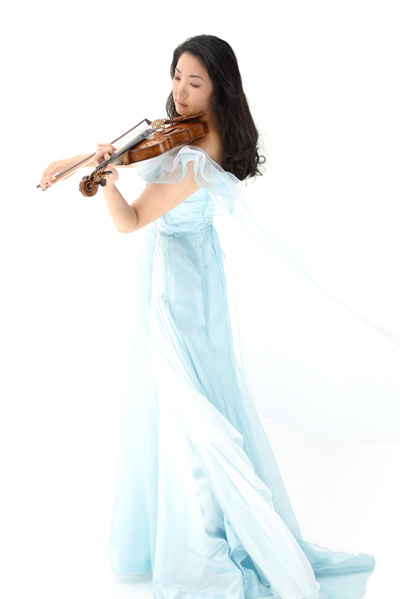 Yoé Miyazaki was born in the USA in Ithaka (N.Y.) and then lived her childhood in Paris, where she started learning the violin.
After graduating with a diploma from theToho Gakuen Highschool and University of Music in Tokyo, she obtained the Premier Prix de virtuosité of the Geneva Conservatory of Music under the guidance of Jean-Pierre Wallez .
Thereafter, she starts a brilliant concert career as a soloist in Europe and Japan performing the great Concertos repertoire of Brahms, Beethoven, Mozart, Mendelsshon, Tschaikovsky, Dvorak, Fauré, Rode, the "Spring Concertino" by Mihlaud, the "Tzigane" by Ravel, "I palpiti" by Paganini, the "Romanza" Op. 40 by Beethoven, the "Melody" and the "Valse Scherzo" by Tschaikovsky as well as first performance works such as a création mondiale by the Japanese composer Masanori Kato, with the Orchestre de chambre de Basse-Normandie.
She played as a soloist with orchestras such as the Tokyo City Philharmonic, Tokyo Philharmonic Orchestra, Sapporo Symphony Orchestra, Yomiuri Nippon Symphony Orchestra, Les Solistes de Genève, Orchestre de Chambre de Genève, Orquesta Nacional de Navarra, Slovenska Filharmonia, Philharmonisches Orchester Vorpommern, Düsseldorfer Symphoniker, with such conductors as Hikotaro Yazaki, Kazuyoshi Akiyama, Naoto Otomo, Leos Svarovsky.
Very active also in the chamber music repertoire, she boasts collaborations with renowned international artists such as Daniel Grosgurin, Jun Kanno, Louis Schwitzgebel-Wang, Thierry Huillet, Hans-Christian Sarnau, Constantin Negoita, György Kukorelly and Marco Grisanti in prestigious halls such as Suntory Hall, Tokyo Opera City Hall, Casals Hall, Oji Hall, Toppan Hall, Asahi Hall in Tokyo, the Kitara Concert Hall in Sapporo, the Victoria Hall in Geneva, the Tonalle in Dusseldorf, the Salle des Invalides in Paris.
Yoé Miyazaki has been filmed in six musical DVDs, recorded on the spots of the lives of the composers, which have been broadcasted through radio and television satellite channels of "Classica Japan". In the broad catalogue of "Octavia Japan", there is a series of 6 CD's of her successes.
One of her master recordings is the release of a box of three magnificent CD's of rare Quintets of French music for piano and strings (Franck, Vierne, Widor, Saint-Saëns) with the exceptional participation of Jean-Pierre Wallez, Bruno Pasquier, Henri Demarquette, François-Joël Thiollier, Bruno Rigutto, performed successively in the Invalides in Paris, the Festival de l'Orne in Normandy, at the Festival of Neuchâtel, at the Conservatoire de Genève.
She regularly participate to radio and television programs in Japan and is also interviewed by important music magazines like "Bravo" or "Ongaku no Tomo", etc.
She teaches at Masterclasses of violin, chamber music and Orchester music.
YOÉ PRODUCTIONS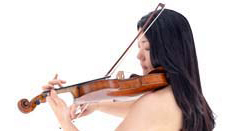 The Yoé Productions company was founded for starting and keeping an active lien between the Musical Arts of Japan and Europe.
Yoé Productions presents a stable group of international soloists, regularly invited to give concerts in Japan and in Europe, with great success.
The Company provides a vast repertoire of barock, classic and modern music, as well as chamber music and Orchester of chamber music.